ABOUT TUNEFAB SOFTWARE INC
TunesFab Software Inc. was founded in 2016 by John Smith. Being established in Hong Kong 2016, TuneFab is committed to eliminating the barriers between DRM protection and people who want to get more freedom on their purchased iTunes movies, Apple Music or audiobooks, Spotify Music, and even the DVD videos. They have a professional software team and will keep developing better and more user-friendly software.
DRM PROTECTION
Digital rights management (DRM) tools or technological protection measures (TPM)[1] are a set of access control technologies for restricting the use of proprietary hardware and copyrighted works.[2] DRM technologies try to control the use, modification, and distribution of copyrighted works (such as software and multimedia content), as well as systems within devices that enforce these policies.[3] 
DRM is a technology used in deterring unauthorized circulation of the various copyrighted and proprietary digital media. It poses a restriction upon the consumers regarding the platform on which they can play the media and also by barring them from sharing videos and other media after they have purchased the content. The use of any DRM removing tool is legal as far as we can check, as long as it complies to fair-use and no commercial intentions.
DO WE NEED DRM CONVERSION
Every Spotify user who wishes to play their downloaded songs on an external/stand alone disk, will face the problem of non playing songs. The reason is the DRM copyright protection! Now, protection rings a bell and makes me wonder if it's legal to use a conversion all to together. Not being a lawyer, I just Googled and found this statement mentioned at several sites.
:→ It's legal if you purchased the music or video. However, this is only suitable for personal usage. … It can also remove DRM from Digital Copies It supports removing DRM in Authorized DRMmedia files, including WMV, M4V and Digital Copy movies and convert DRM videos and audio files to different devices and players.
So, for private use, you're ok running TunesKit, however you are not the technical owner of the downloaded song. I wonder about legality really, but still understand that's impossible for anyone to check.
TUNEFAB SPOTIFY MUSIC CONVERTER
There is a number of DRM removing software tools on the market like Sidify, Noteburner, Tune4Mac which all claim to be the best to buy. We tried them all and finally ended up with TuneFab being the less known software tool of the lot. Now we're in for a practice test leaving nothing out regarding quality of sound, speed of decoding and preferences available. The layout of alle mentioned developers DRM removing tools are quite familiar and face the same approach towards the handling of Spotify files to be decoded. One of the best options of TuneFab Spotify is the BitRate (kbps) setting of 512 kbps high audio quality, which is not found on other conversion tools where the highest setting is 320 kbps!
The website states only 320 kbps, but the application itself provides a 512 setting! The audio data can be set at MP3, M4A, WAV, FLAC, OGG, AIFF as found at most this party tools.
A professional and comprehensive music converter for Spotify Free and Premium
Easily convert Spotify tracks/songs/albums/audiobooks/podcasts.
Download Spotify Music and save as MP3/M4A/WAV/OGG/AIFF/WAV.
Keep music metadata and ID3 tags as original, like titles, artists, track ID, etc.
5X speedy Spotify audio conversion with 320kbps high audio quality Windows only, 512kbps for Mac
Enjoy advanced output settings for Spotify music.
WORKING WITH TUNEFAB
Easy to Operate with 5X Faster File Conversion Speed is only available for Windows and NOT for Mac. Those of you running Windows have the option available though. If you wish to use Noteburner instead of TuneFab, you need to change the SIP of your Mac (below)! Running TuneFab is easy and without any problems. One thing catches my attention running TuneFab and that it skips NO songs from Spotify where Noteburner sometimes does. TuneFab is not skipping any files which makes it best in class. The 512kbps setting does impact the conversion speed which makes conversion taking up more time as expected. Still the end result is what it is all about if you want the best possible audio output. We ran the conversions at all highest settings for best audio performance.
System impact is about 11% of the CPU which is noticeable. Noteburner's engine is faster but TuneFab is more consistent and skips no songs from Spotify.
MAKE USE OF 5 SPEED CONVERSION
METHOD to turn SIP off !!
Step 1: Shut down the Mac.
Step 2: Turn it on but hold down the "Command + R" keys on the keyboard as soon as you hear the startup chime. You can leave the keys when you see Apple logo.
The system will boot into Recovery Mode.
Step 3: When the macOS Utilities menu appears, left-click the "Utilities" and then click the "Terminal".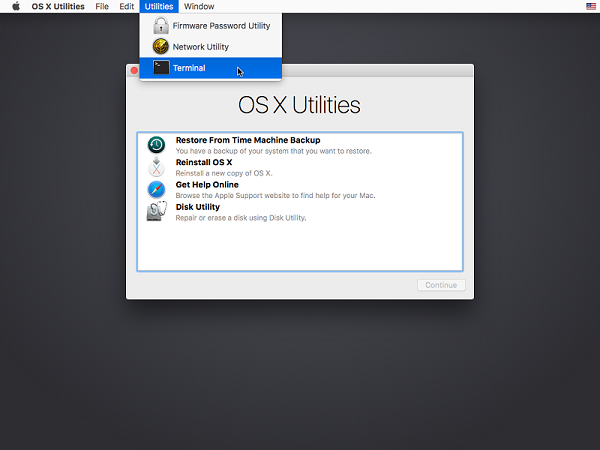 Step 4: In the window that opens, type "csrutil enable –without kext" and press return.

This turns off the part of SIP that iTunes Converter needs to run, and OS X complains that it is an unsupported configuration.
Step 5: Now write "reboot" to restart your Mac computer.  ( Source www.macsome.com )

 How to enable System Integrity Protection (SIP) again?
To secure your computer, we suggest you enable SIP again if you don't use NoteBurner to convert. Please quit NoteBurner, then boot into the Recovery OS.
In the window that opens, type csrutil clear and press return. Now type reboot and press return to restart your machine.
VERDICT
If you are using Spotify and are in need of a DRM removal tool, TuneFab might be your best option really. TuneFab Spotify Music Converter is an absolute winner if you're looking for the best possible audio quality setting available. The audible results are great and the software handels all data without any interruption or faults. Pricing is for a Lifetime license which is great.